How to Pack a Suitcase Efficiently (2023)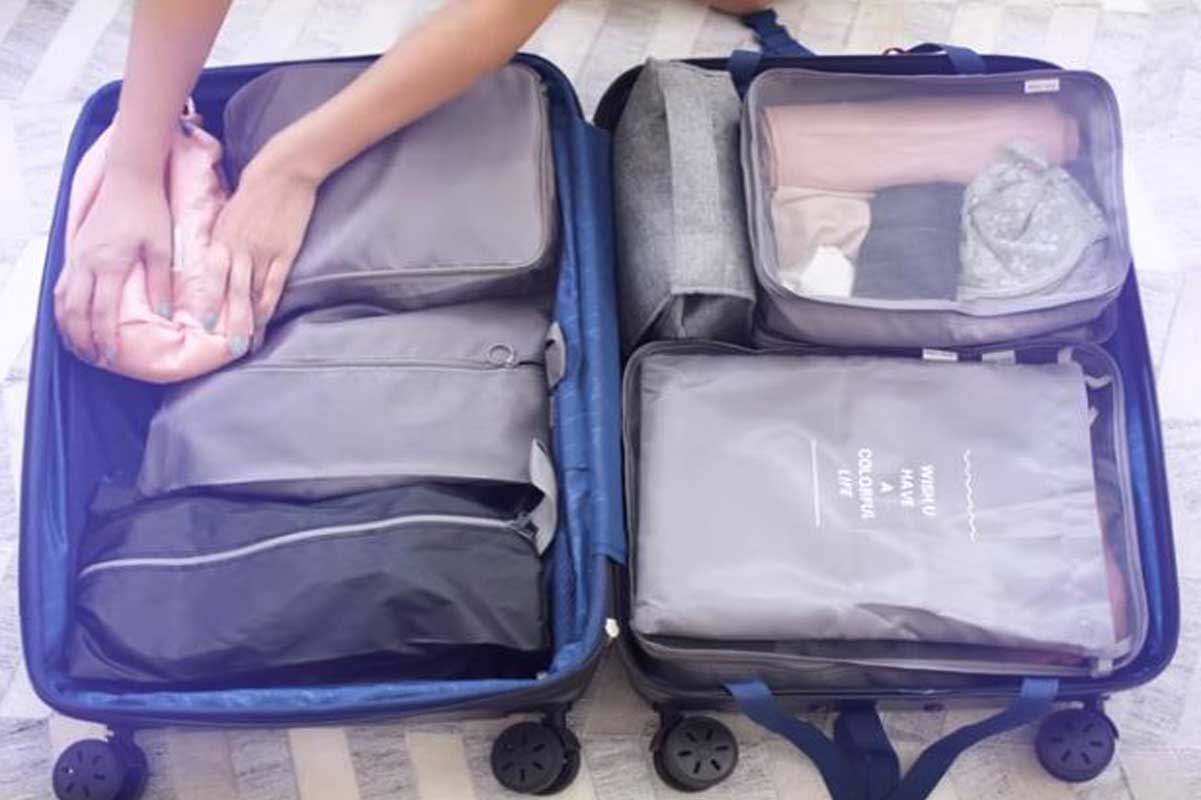 As simple as it seems, how to pack a suitcase efficiently is a science that has left many travelers disappointed. This mostly happens during the course of their journey upon realizing the numerous mistakes they made and things they forgot at home. It is a task that catches many suitcase users' unawares and gives most people a hard time packing the numerous items they want to carry along independently and efficiently.
You should learn how to pack a suitcase efficiently for easy carry and optimize its available space to reduce the quantity of luggage you will be forced to carry along. The following are the steps that will guide you on how to pack depending on the duration of your visit.
---
How to Pack a Suitcase Efficiently (Tips and Steps)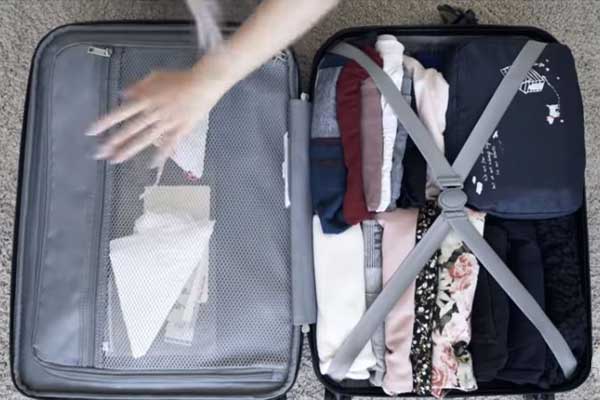 The steps guide you on how to pack a suitcase efficiently and maximize space. With a well-packed suitcase, you will not have the nightmares of visiting local drug stores during your visit having forgotten yours at home. There are things you must know before deciding what to carry during your vacation. They include;
Choose the correct size of your suitcase
This follows the general rule that the larger the size of your suitcase, the more you will be tempted to pack many things into it. Carrying things that are not very essentially needed in the course of your travel will just make you tired and disturbed for no reason. It will take more energy to pull large suitcases and some will not fit in the airplane's cabins. For comfortable travel, use a 22-inch sized suitcase that has a hard shell to avoid squeezing things into it. A sizeable suitcase can be used as a carry-on and make it easier to use flights for travel.
Listing items before packing
You need to make a list of everything that you need for your journey. After making the list, edit thoroughly ensuring you prioritize essentials and leave the rest of the things to avoid congesting your suitcase. Clothing will give you the hardest time and you will need to apply the 5,4,3,2,1 rule. Select just 5 sets of underwear and socks, 4 tops, 3 bottoms, 2 pairs of shoes, and one hat. This will guide you to maximize the inner compartment by ensuring it is not full of clothing.
Categorize items
You need to make different categories for the different things you will require in your journey. Toiletries should be grouped separately from clothing and medical kits. After grouping your items, categorize them under a scale of needs. The scale ranges from essentials to the 'just in case I need' categories. There are things you must carry while there are others that you can buy within the locations of your trip. Only prioritize carrying the essentials along with you to reduce the load and reduce the number of items to make it easier for you to manage.
Read more:

Best Luggage Sets for Women: Reviews, Comparison, and Guide 2022
Maximize space
This is the best way to pack a suitcase and fit the whole lot into one bag. You need to ensure that every space is occupied and related items are packed together e.g. stuffing footwear with socks. You can use the following methods to maximize your suitcase space.
Using packing cubes; Packing cubes enable you to keep outfits in order and help you compact your clothes. They are smaller bags that allow different items to be packed together separate from other groups.
The bundle technique; involves tying your clothes in bundles that are compressed. The lightweight items such as shirts and underwear form the core of the bundle while jackets and coats are put on the outside. Each clothing article is carefully wrapped around the core.
Rolling; Ensure that you roll your clothes before packing them. This will maximize space and avoid forming wrinkles on the clothes.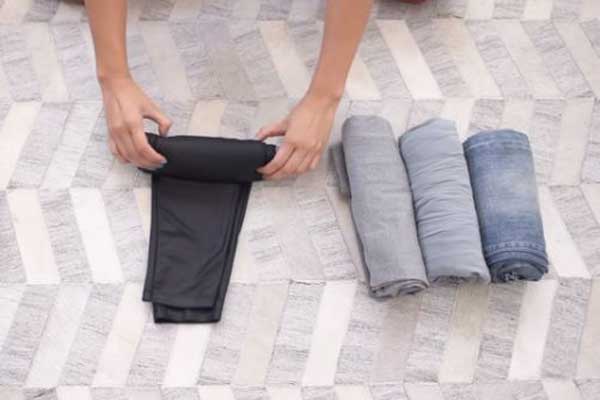 Keep special items within easy reach
Liquids and other target items for search by security agents should be placed within easy reach. The most ideal place is the top of your suitcase and pack in a clear bag.
Separate toiletries from other items
Toiletries should be kept separate from other items. Try using the inner pockets of your suitcase if they can fit. This will help you avoid unpacking them every time you want to reach for your clothes or shoes. This will also help avoid accidental spillage of liquids.
After following the steps outlined above in packing your suitcase to maximize space, you need to know the packing aids that can help you achieve your targeted packing method with ease. They are;
Compression bags
This is also referred to as a space bag, it is used to pack clothes and compress all the clothes inside the bag by allowing air to be pulled out. It squeezes a large pile into a heavy chunk and creates space for more items to be packed. The only problem with these bags is that they do not minimize the weight of the clothes. You should be careful not to exceed the weight limits for air travel.
Packing cubes
These are great organizers that help you separate travel items into different compartments that you can easily manage. The major advantage of using packing cubes over compression bags is that packing cubes do not make your clothes from wrinkles. These are the ideal packing aids to use when embarking on a journey that requires a lot of unpacking and repacking. The only disadvantage of using packing cubes is that they do not help you to maximize space. They only assist you in being very organized.
Plastic bags
The most excellent suitcase organizers for any kind of travel. They have the advantage of being lightweight and you can easily label them. To make the identification of items easier, you can use transparent plastic bags and pack your items with them. The only problem is that they won't make your suitcase look beautiful. They also make a lot of noise when packing and unpacking the items.
All three packing aids can be applied to any type of suitcase. For your travel, you need to select the most ideal suitcase for your packing. If you want to carry many heavy items you can go for the hard-shelled and durable suitcases. If you opt to use air travel ensure you go for soft carry-ons to fit in the cabins of airplanes. Other than carry-ons, you can opt to use checked suitcases for convenience.
You need to know how to pack each and every one of the suitcases. You can decide to either fold your clothes or roll them. The most ideal way is to mix the two methods to maximize space and make your suitcase look more organized.
Read more:
---
How to pack a carry-on suitcase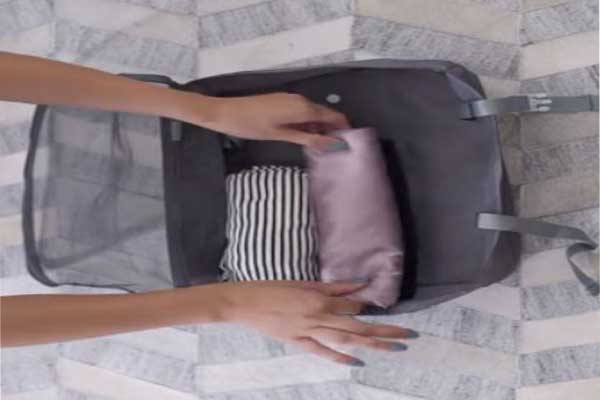 You need to be aware of the airport security rules, it is advisable not to carry full-size bottled shampoos, gels, sunblock, or other liquid substances for your travel in your carry-ons. If you must carry them, have them in 100-milliliter bottles or smaller to meet the airport security regulations. Ensure you use packing aids to pack them for easy retrieval during security checks. You can put them in a transparent plastic bag and place them on top of other things in the main compartment. You can also use the top or side pockets to avoid opening the main compartment to retrieve them for checks.
Do not stuff too many things in the carry-on suitcase. This can make the suitcase expand and exceed the airlines' limits for carry-on bags. Some luggage set bags may be described as fit for carry-on luggage but this may be true only when empty. When the suitcase is full and the side pockets stuffed with items, it may exceed the size allowed for luggage cabins in planes.
Take care of the weight of your carry-on as you put items in it. Most international airlines give a limited weight that you can have as a carry-on. You must be aware of the limits and pack accordingly just in case you find yourself on a sold-off flight or in a smaller airplane.
When taking a flight, ensure that your carry-on bag has a luggage tag for easy identification in case it is lost. You also need to make sure that the fragile, easily breakable, and important items are easily accessible for retrieval in case you wish to transfer them to personal items in a hurry.
Check out the best gifts for women:

Top 6 Best Heat Pads for The Neck for Women- Reviews and Comparison
---
How to pack a checked suitcase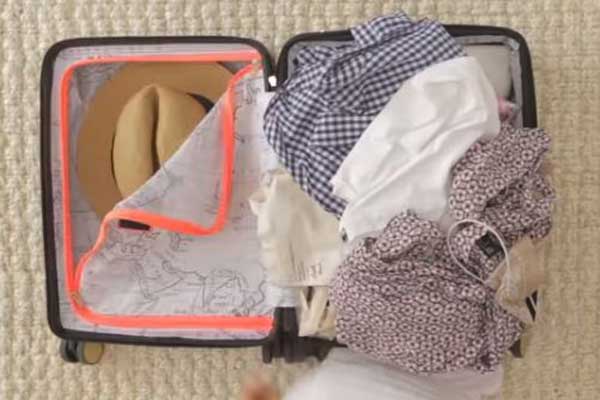 You need to be aware that there are overweight luggage fees and you should take care to ensure that your checked suitcase weight does not exceed the maximum allowed weight. If possible, weigh your luggage bag with a luggage scale at home before leaving to be sure of the weight accompanying you. Do not forget to give yourself a margin error just in case the scale at the airport is calibrated differently.
Never trust an airline with anything that is important. It takes a lot of time to retrieve lost or misplaced items and you may end up never getting them back at all. You should therefore ensure that important items such as cameras, jewelry, prescriptions, car keys, and other personal items are kept in your carry-on bag.
It is easy for things to get damaged inside a checked bag. You have to ensure that breakable items are wrapped in a bubble wrap or cushioned in clothing. If you want to carry liquid items such as wine in a checked bag, use a sleeve that is specially designed for that purpose.
To avoid damaging items in your checked bag with liquids in case of spills, pack the toiletries separately. Use a zip-top plastic bag to wrap them or place a plastic wrap under the bottle caps.
Make accurate labeling on your checked suitcase. Put your name, email address and phone number for the airline to easily contact you in case your bag is lost. You should make it a bit easier to track your whereabouts by putting the address of the hotel you are staying in. Leave your home address for security reasons and secrecy.
Avoid being a victim of having your bag mistaken for someone else when both of your checked bags are of the same color and placed in the same area in the baggage carousel. Lok for a brightly colored duct tape and tie it around the handle for easy identification. You can also tie a brightly colored ribbon.
Luggage theft can also be experienced when traveling with some airlines. Ensure you lock your checked bag properly to discourage thieves. The best way is to fit a TSA-approved lock so that the security agents will not need to cut it to check your luggage.
Read more:
---
Things to Avoid While Packing a Suitcase
Avoid carrying prohibited items
Avoid packing items that are listed on the TSA's prohibited list. They include fireworks and other flammable items that you can not place in your checked bag. Some types of batteries can also not be kept such as the loose lithium batteries used in cameras. Liquid batteries can also not be kept in there unless they are attached to a wheelchair. Electronic cigarettes and strike-anywhere matches are also prohibited.
Do not use unapproved locks
The locks you use on your checked bag must be TSA-approved. A non-TSA-approved lock is often cut and pulled off by security agents when physical checks are being done. TSA-approved locks are secure and the security agents can open them using a master key.
Do not leave loose ends
The pockets of your bags must be properly zipped and fastened. Do the same to all compartments. Ensure no things are left hanging outside the pockets such as shoes tied to the handles or leaving backpack straps dangling. The risk of having them stuck in the conveyor belts at the airport is high and they can get lost or damaged easily.
Packing liquids in a risky place
All liquids such as lotions and gels must not be placed in high-risk areas. Avoid putting your toiletries bag in the right front pocket of your carry-on. The bottles can easily explode when a baggage handler tosses your carry-on onto a cart. Always put them cushioned in the main compartment. You can also tape your liquid bottles with duct tape to avoid spillage.
Avoid short layovers for connected flights
When using air travel, avoid tight connections that will not give you enough time to check and confirm your items at the airport. Placing a minimum of two hours will help you to reclaim and recheck your bag before boarding the next flight. You will eliminate the stress of wondering whether your items will reach the next destination.
Do not pack too close to the weight limits
On many airlines, 50 pounds is the set weight limit for check bags. The charges for overweight luggage are high and you need to have a luggage scale to be sure of the check bag weight if you are a heavy packer. When packing, allow some room for errors just in case the scales at the airports are not accurate. You can also leave some space if you want to bring back home a few things.
Avoid gate checking small bags
There are small bags that will save you time gate-checking them because you can place them under your seat and have space for stretching your legs. It will help you eliminate the need to spend time waiting for another luggage piece at the baggage claim while you could have carried it along with you onto the airplane.
Avoid packing all essentials in your check bag
It can be a great disappointment when you pack all of your clothes in a checked bag and it disappears. Have some kept in your carry-on for emergency use as it can get cold mid-flight? Your seatmate can decide to blast the air vent and having a hoodie can save you the agony of enduring the cold.
Do not put liquids and gels deep in the bag
Liquids and gels are items that get checked by security agents and you should ensure that they are easy to retrieve. Laptop computers are also needed for screening. Have them placed on top of other items in the main compartment for easy access.
Avoid overpacking carry-ons
Some airlines also weigh carry-ons and they have a limited weight by which they allow the bags to carry. This maximum weight lies between 15 to 26 pounds ranging among different airlines. Ensure you weigh your bag before leaving. You should also be aware of the size limits.
Remove important and personal items from your carry-on if it has to be gate checked
You may be encountered a shock when your aircraft gets to be smaller than expected or gets full. This forces travelers to gate-check their carry-ons and you cannot leave travel documents or delicate personal items inside them. Medicine, personal items, and pricy gadgets should be stowed in the personal items you carry along with you.
Do not fail to prepay your carry-ons
Most low-cost carriers will often charge carry-ons in addition to check bags. The reminds you to pay for carry-ons in advance using the online platforms to avoid wasting time or queueing at the airport to pay for them physically.
You May Like Also:

Best Tunic Tops for Leggings of 2022 Reviews and Guide
---
Packing for Different Periods of Time
Packing a suitcase can also be done differently depending on the duration of your travel. There are those who will spend months while others will only take days.
If you want to learn how to pack a suitcase for 5 days, consider the following; make a weather analysis to know the type of clothes you need to carry along with you. You should consider the week's temperature highs and lows to decide on whether you will carry light clothing or heavy jackets. Select sandals if it will be sunny and boots if the weather is chilly and cold. List all your planned activities and select the kind of outfit that is needed for you.
If you will be traveling with your family, make a list for each person to avoid forgetting everything. Consider your wardrobe and ensure that the bottoms match the tops. This will help you avoid carrying favorites that you will end up not putting on during your trip. Only carry the necessary toiletries for your trip and you can even leave some that are cheap and available in the location you will be situated in.
To know how to pack a suitcase efficiently for a week, you can use the principles applied for 5 days since the activities will be similar. All you need is to add extra toiletries for 2 more days and underwear. You also need to plan activities for 2 more days and add extra outfits.
To pack your suitcase for two weeks, will require you to carry a more detailed listing since your activities will be more. There will be a high likelihood of some weather change and you need to include a heavy jacket even when visiting a summer country. Carry more than one type of footwear and mix openly with closed shoes. Choose dull-colored clothes in case you can not change outfits daily to avoid looking dirty when you recycle some clothes. Wear the bulkiest shoe type to save space while packing your luggage.
Different ideas are needed if you want to know how to pack a suitcase for a month. This requires a detailed weather study and some balance between sunny and chilly clothing in case daily changes occur during your visit. Reject clothing pieces that will show stains, wrinkles, and sweat after using them once. Choose clothes that will allow recycling before cleaning. Prefer carrying clothes that can be easily cleaned by wiping off dirt with a wet piece of cloth.
You should also choose clothes that allow easy cleaning and fast drying in case you will have to wash them. Carry along with you a travel laundry kit and a portable clothesline for your washing. You should then organize your suitcase using packing cubes having arranged items according to activities or weeks. This will allow you to pull off just one pack at each stop.
Final Thought
In conclusion, knowing how to organize your suitcase is the most important activity before embarking on a trip. It will save you the embarrassment and disappointment of realizing you do not have some essentials and deny yourself the right to enjoy a vacation. Be aware of the above-stated guidelines about 'how to pack a suitcase efficiently' and you will enjoy stress-free visits.